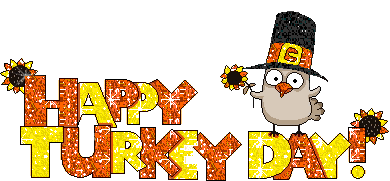 We're heading towards that scary time of year, folks! I'm not talking about Halloween. We all know that pales in comparison to how many calories we can put away on Thanksgiving. So let's join hands and help support one another to stay on track with our eating and exercising. The Halloween challenge is almost over and many of us are coming pretty close to the goals we had set for ourselves, if not reached them, so I'm hoping to get even more people on board with this Thanksgiving challenge to inspire one another to keep up what we've started and press on to reach our next goals we set.
So, come on everyone, the more the merrier!

You can join in at any point, but I thought I'd just get this thread up now to get the word out early. If you join now, just come back on the official starting date of November 1st and state your starting weight and then what you'd like to weigh on Thanksgiving morning. Or if you'd rather concentrate on a size goal, that's great also. We
only
have 4 weeks during this challenge, so lets really give it our all. I hope to see everyone from the Halloween challenge join as well as lots of new faces.
Starting weight: 169
Thanksgiving goal weight: 162